Hip Chips is a quirky restaurant that sells crisps, but not just any crisps. The crisps are all made from a variety of British potatoes and are served with different types of sweet and savoury dips. It was a rainy evening in London but with Christmas coming there was no way I was missing an early Christmas Dinner. Especially when it consists of snacks. After braving the miserable weather and a battle with my umbrella, I arrived at Hip Chips on Old Compton Street.
For the time of year we all love, Hip Chips have invented a Crispmas Dinner Box especially for Christmas. The special dips are inspired by the traditional three course meal.  A Salmon and Pickled Cucumbers to start, Turkey with stuffing and Cranberry Sauce for main and lastly a sweet Christmas Pudding and Brandy Butter, for dessert.
My favourite was the sweet crisp and Christmas Puddy and Brandy Butter. I've never thought to have fancy crisps and dips I always stick to the traditional three flavours of Crisps, Cheese & Onion especially but this was a superb change from the ordinary.
The sweet crisps are covered in cinnamon sugar and the savoury in salt, these crisps are great to eat with or without dips. I also enjoyed the savoury crisps with the starter, Salmon and Pickled Cucumber, it was like eating a crisp sandwich, which is a British invention I love.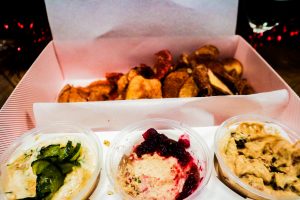 HipChips have a variety of other dips including Moroccan Yogurt, Katsu Curry, Smokey Cheese Fondue and for those with a sweet tooth the luxury of Cheesecake, Lemon Tart and Raspberries and Chocolate Mousse dips.
The crisps also come in a variety of shades due to the season they're picked from Highland Burgundy which are red to Red Emmalie which are purple and Pink Fir Apple from France. Although the colours don't affect the flavour they all tasted great to me.
It's fair to say I will definitely be taking another trip for a dip.