We all met up in the beautiful City of London, Shoreditch to be precise! If you're a Londoner then you will know that Shoreditch is one of the most Professional yet quirky places to visit within the City! So, we arrive shortly after 7pm and enter what is known as The Queen of Hoxton (Rooftop Bar). The venue is bursting with colour from the offset. From outside you can see neon lights and the venue sticks out and is noticeable on the corner. It is surrounded by sky scraper offices in the city.
We are greeted by the ever so friendly door staff who issue us with our press wristbands. They direct us upstairs to the rooftop where all the El Mexicana was taking place. Downstairs was thriving with chart bangers so gave the venue an uplifting and vibrant vibe.
The Climb to Mexico
As we climbed the staircase (10 stairs feel like 100 when your wearing 5-inch heels) to the roof we opened the door. It was like a fun filled day party, it literally felt like we walked into a fiesta. Colours, flowers, food & cocktails were the first things I noticed. We were quickly met by the lovely manager Toya who rushed to get us cocktails (Frozen Pineapple Margheritas all round).
As we toured the rooftop which screamed colour, we were quickly met by a bottle of Tequila! We could either pick normal Tequila or Chilli Tequila and wait for it…. with a few edible (apparently spicy and seasoned) Tequila worms. Our team tried both but we did ask the courteous server to hold on the worms.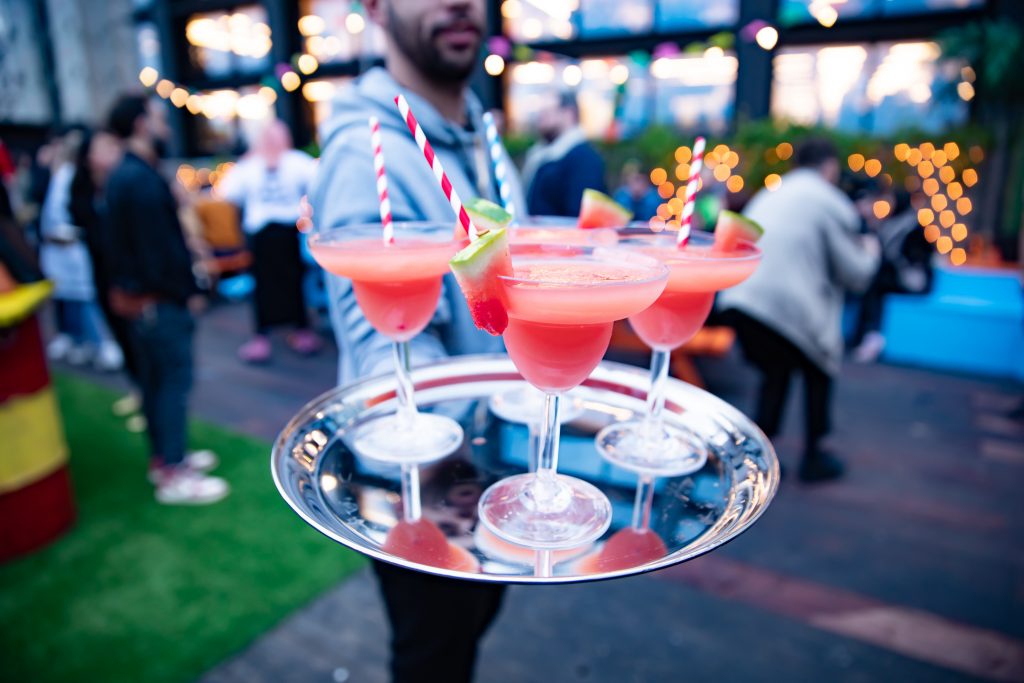 Who wants to Arm Wrestle
As I walked further into the rooftop I found a wrestling ring with some phenomenal and saucy female wrestlers.  More commonly known as Luchadoras, they were taking part in arm wrestling battles (winner stays on). I decided to be Audg and take part in the arm wrestling, I won 2 out of 3 battles and opted out. I wanted to keep my winning title.
Our camera crew then ventured to the left side of the rooftop fiesta. There was floral headband making taking place, you could select your own flowers, beads and bands. Festivals are coming or whenever you are feeling funky these unique headbands will make you unique.
We also indulged in the Mexican food menu, which had a variety of foods to enjoy and review. There were tiny, tasty mini burgers (Hot Chilli Cheese Burgers) which were delightful. They were quite small so when I hd five i did not feel bad. We also tasted their tantalising nachos and dips which included salsas, Guacamole, Jalapenos, refried Beans and Spicy Cheese Sauce. These were remarkable and moreish to say the least. Our Editor is Vegan and she triedsome vegan options. A Blue corn Taco filled with spiced squash, blistered tomatoes, avocado and pink pickled onion. The infusion of spices and vegetables made her mouth burst with an explosion of flavour.
Chicken Tacos x Pink Tequila Pickled Onions
I am not vegan so I indulged in the Chicken Taco. It included ingredients such as Free-range chicken thighs slowly braised with fresh tomatoes and jalapenos for a mild heat experience. Garnished with pink tequila pickled onions and salsa. These were wonderful and filling.
Lastly, we took part in the photo booth and took various images of the Melanin Matrix Team as well as management of the Queen of Hoxton establishment. This added an extra level of enjoyment to the evening, not to mention the interesting, friendly and joyful people we met in this launch. The Queen of Hoxton gets a thumb up from us at Melanin Matrix. Las Mexicanas also has winning arm from arm wrestling as this was a totally enjoyable evening from start to finish.