Aubaine is a passionate marriage of French culinary creativity and the discerning standards of the London dining scene. The restaurant, located in Regent Street, is in a cosy corner, off Heddon Street. The atmosphere when entering on a cold night matched the cosy feel of the location.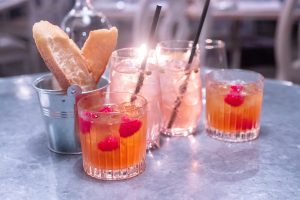 The restaurant was low lit with candle light the perfect setting for a romantic dinner, however, I was with my Editor in Chief, go figure. The lovely waitress Erica welcomed us with a warm smile, seated us at a table decorated in orange Veuve Clicquot pillows and showed us their new Winter Cocktail Menu..
The food is reasonably priced, however, I wanted to save a few pounds and so I went for the set menu. At a cost of £12 that means you can fit in desert and a cheeky cocktail too. The menu included a classic Fish and Chips, accompanied by an Happy Hour, of buy one cocktail get the other free. We bought 4 just to get us through our meal, I sipped on not one, but two juicy cocktails. One named 'Orange Gin' Tonic which included Malfy orange gin, top up tonic water and 2 cardamon pods and the second 'Our Golden Raspberry Lillet' made with lemon juice, brown sugar, raspberry and lillet. The Orange Gin tasted like Gin mostly and you could say gin is an acquired taste however I did enjoy that it was not overpowering. My favourite was the 'Golden Raspberry Lillet' as it had a sweet taste. It also included raspberries which is always a treat in a cocktail, plus you don't feel as guilty when there's fruit involved.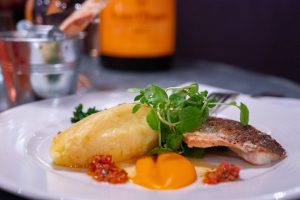 The main dishes were presented well with our two selections of fish and chips and the second salmon and mash potatoes. The meal went down a treat alongside the service and we were way too full for desert after the huge portions given, however the lovely waiter persuaded us to try the light lemon sorbet.
If you're feeling for a warm embrace and not just from the gin, Aubaine is the place to go.