SASSY held its first pop up at Dalston Roof Park. Maison Sassy and Dalston Roof Park joined forces in serving some of the most exciting cocktails with a twist.
SASSY is redefining Cider by fusing together unique ingredients to create three refreshing cocktails. Created by two childhood friends, Xavier d'Audiffret Pasquier and Pierre-Emmanuel Racine-Jourden. Their love of cider brought them together creating a new way to drink.
The New Dalston Rooftop
I arrived at Dalston Roof Park with not much excitement due to the weather. It was starting to rain but then the drinks started flowing. The view from the rooftop was refreshing, and after the rain came the sun and a beautiful double rainbow. The rooftop is the perfect place to go during the summer, it has a skyline view and was recently redecorated. There is a new food shack and plenty more seating and space.
The decoration included a beautiful artificial tree with pink and white flowers blooming. This was placed next to the bar creating that summer vibe. The roof top also had shelter which had colourful glass palates for a ceiling, artificial grass and embroidered cushions for comfort. The outside seating area had all wooden furniture which looked like beef crates, again sticking to the summer vibes.
The Cocktails
Sassy served three cocktails on the rooftop:
Summer Sass (Grey Goose La Vanille, Melonade, soda water and SASSY Cidre Brut)
Pomme De Replay (Patron, 30&40 Double Jus, Agave, Lime Juice, Grapefruit juice and SASSY Cidre Rose) and
Long Norman Ice T (Oxley Gin, Grey Goose Le Citron, Lemon juice, Earl grey syrup and SASSY Cidre Brut).
I enjoyed all three but my personal favourite was Pomme De Replay (a twist on one of Rihanna's songs). Not only did the name grab my attention as I loved the creativity but I also enjoyed the sweetness of the cider.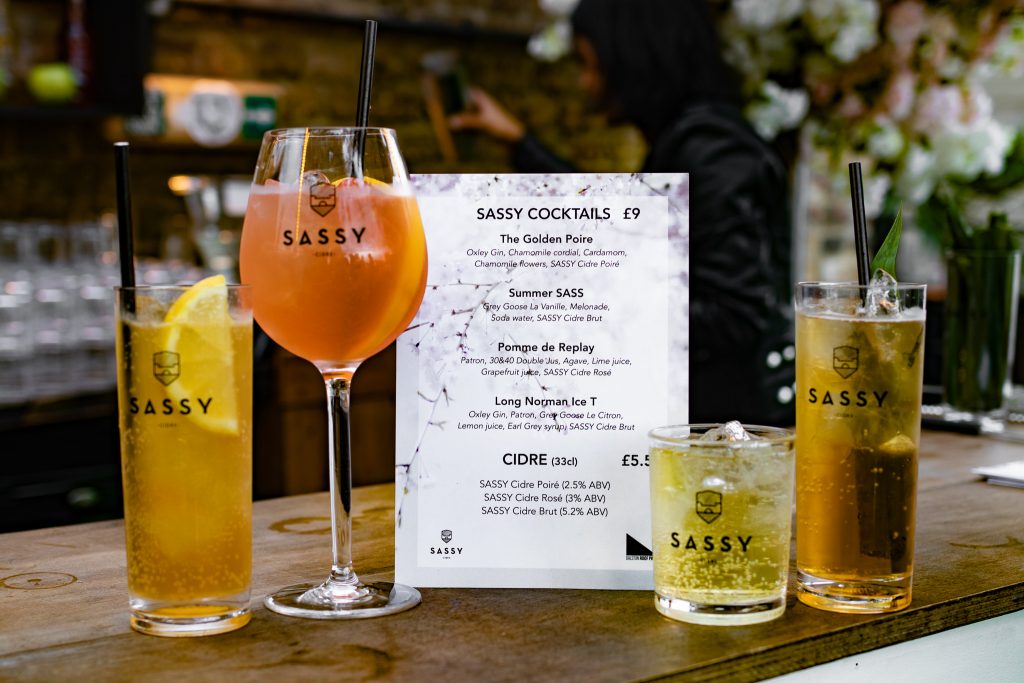 Iconic, Passionate and Virtuous
Alongside the cocktails I was given many choices of food from BBQ chicken wings to Chicken Curry with pineapple and mini noodles. I also had the choice of a lemon drizzle cake for snacks. The lemon drizzle cake was super sweet and crumbled just right. I loved that the food also catered to vegans and vegetarians.
The two businessmen currently sell three different Cidres: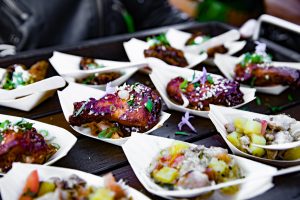 The Iconic – cider with brut and fruitiness
Passionate –  pink fleshed apples with a red fruit aroma and
The Virtuos –  with natural pear.
While the cocktails were flowing, DJ's on the night included Snoochie Shy from BBC 1Xtra and Jeremiah from Reprezent Radio, which heightened the mood.
Dalton Rooftop Park is somewhere we I would recommend as a pace to go during summer. With the addition of the great food being served SASSY Cidre definitely brings the sun and fun out.