Oslo Hackney is a bar, restaurant with a nightclub all in one, with an excellent vibe and so close to Hackney Central. After a hectic journey with the Overground suffering severe delays and a slow Uber ride, we finally ended up at Oslo, Hackney. After a welcoming security guard greeted me, I felt like the bar I was entering was prestige. We were greeted by our waitress and led to our cute table decorated with flowers and a candle in the corner of the Bar.
We opened the drinks menu in excitement, after hearing about Oslo's new Winter Menu and after minutes of struggling, (we were spoilt for choice) we decided to order drinks that we had never tried before, these were;
Delusion Cocktail – Bulleit Bourbon, Orange-Liqueur, Cardamon & Rosemary, Apple Cider Sherbet and Orange & Chocolate Bitters.
Winter Spritz Cocktail – Tanqueray Gin, Italics Rosolio di Bergamot Liqueur, Grapefruit Sherbet, Gingerbread Syrup & Prosecco.
Alejandro Cocktail – Ocho Blanco Tequila, Creme de Cacao Liqueur, Cream & Nutmeg
Morning Mist Cocktail –  Bulleit Rye Whiskey, Amaro del Capo Liqueur, Xeco Fino Sherry, Hazelnut Syrup & Orange Bitters.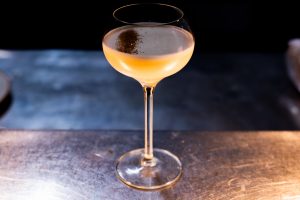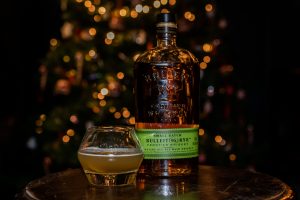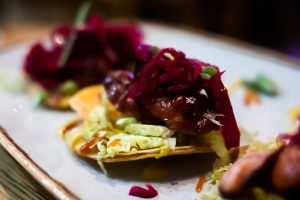 My favourite drink after a few sips was the 'Winter Spritz', the bitterness of the Gin was complemented with the sweetness of the Grapefruit which made it a pleasurable drink. My Second favourite was 'Delusion' which was unexpected as I am not a huge fan of Chocolate flavoured drinks, however, the chocolate was lovely next to the orange zesty flavours. I also enjoyed Alejandro as the creaminess of the drink filled me up and made me feel warm, perfect for the cold weather. It tasted a little like a familiar creme liqueur but with a kick.
To compliment the cocktails we ordered food off of the sharers menu as the options sounded delicious. We ordered the Polse which was Norwegian Sausage on tortillas, Cod Bolinhos, Mac 'N' Cheese, Sweet and Spicy Chicken Wings and Avocado Tempura with sweet chilli sauce. All of the sharers were tasty with the Avocado Tempura being my favourite as it was a twist on the pear shaped fruit we all love.
There's no doubt if you're looking for after work drinks or a night out with the girls, Oslo, Hackney has launched a Winter Cocktail menu worth travelling for. I would definitely make an appearance at Oslo Hackney again as it was the cosiest place to chill and enjoy this winter weather.