People complain that when it comes to business their friends barely support but they'll buy a Jay-Z and Beyoncé OTRII Tour Ticket.  As an Influencer, it means that I get to highlight not just the big brands but my friends who I do see trying to break through. Firstly, let me point out I love food so when my friend Kizzy first posted on her Instagram about Empress Cook Up I was straight on the phone to her! With her debut Cook Up coming, I offered my services and went to help (or maybe just eat) as she made all of her meals.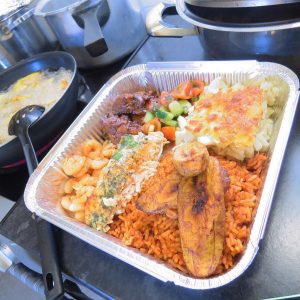 I turned up at her house on the Sunday and the Kitchen was spotless save the bits that still needed chopping etc. I am still working on my tidiness skills and being around Women like Kizzy is inspiring although she thinks she has mild OCD. When the food was finished being prepared we waited patiently for her brother who made the barbecue sauce from scratch with some secret ingredients I cannot share but can I say it was sticky and sweet. I remember standing in the kitchen and I loved the family atmosphere of a brother and sister cooking each other. I suppose it reminded me of the old-school community that existed in our family households. After hours of cooking I finally departed from her house with 3 containers:
Jollof Rice and Chicken with Plantain
Jollof Rice, Garlic Butter Salmon, Sweet Chilli Prawns, Macaroni Cheese and Barbecue Chicken (served with Plantain and Salad)
Plain Rice, Garlic Butter Salmon, Sweet Chilli Prawns and Macaroni Cheese (served with Plantain and Salad)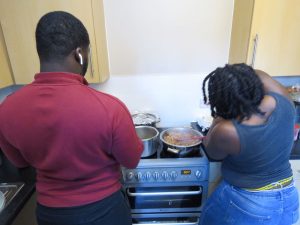 The portion sizes were huge and the different flavours balanced themselves out well. My hair stylist Patience Aurelien is a real foodie and she was very happy when I spoke to her the next morning. We both agreed for the price of £12 the food was a great deal. If you want to know for yourself, Empress Cook Up is available every other Sunday. Let me know what you think?
Text your orders through to 07498 954 108 but check out her Instagram @empress_kiz.empresscookup for the menu.