While Sprayground slowly takes over the world with its urban bags, it stopped in London for a Shoreditch Pop-Up. Latoya caught up with the founder of the brand to see how this daring and loud brand has exploded globally so quickly.
Sprayground is a brand I found out about two years ago and I was on the hunt to try and get one of their rucksacks! Sprayground was founded in 2010 by Designer David Ben David, a creative artist with a big dream of creating something unique and lucky for us, he developed the rucksacks. The first rucksack he developed was the 'Hello My Name is' Backpack but the brand quickly realised it's full potential when the 'Money Stacks' backpack was released and the fashion world went crazy. Last week Sprayground opened up a store at Box Park, Shoreditch and I was honored to interview the designer himself.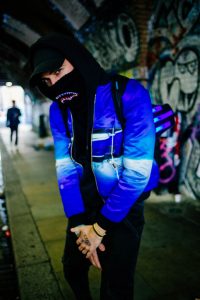 'Starving artists are a real issue' and when people embark on an entrepreneur life it doesn't always go the way they would like. However, one common trait I have noticed is that the ones who survive are the ones who have the motivation to not give up. David Ben David is no different.
His mother was a bit of a hippy and she noticed from an early age that he had a 'creative gene'. Often we think that you need everyone to support you but David's father 'didn't get what he wanted to do and still doesn't'. The young artist realised, however, that as long as his mother understood that was all that mattered and she encouraged him to go to art school after a meeting with one of his teachers. David's ultimate dream was to 'create something that people could use and give people happiness whilst they use it'. Whilst at Art college David entered quarterly competitions (500 students in his class) only 10 students would win and he kept winning them, although he is still paying it off I think we can honestly say it is an investment well spent.
Upon leaving art school, David started his entrepreneurial journey. He started to develop the brand Sprayground which when he speaks of this time he speaks about the 'Money Stacks' bag, one of his first rucksacks. "I wanted to see what I thought was crazy on a bag, I wanted to see how money looked stacked upon a bag, see 5 million dollars on a rucksack." What a sight it was and if you don't really have it then why not wear it as a design on a rucksack it gives us all a dream. After early support from music artists like 50 Cent and Bruno Mars David still identified he needed a consistent flow of the rebellious outcasts that wanted something different. Without being swayed by what everyone else was doing David decided to stand out and that brought companies like Nickelodeon, Warner Brothers, Marvel, and DC knocking at his door.
I believe in the organic growth of a brand, you can spend 10 million on marketing but if your product sucks, it won't work, those brands all came to me and asked: "How can you take our characters and give them life again?" It was a challenge because they have many partners with style guides but I said if they wanted me to create for them I wouldn't follow their structures. We've all seen the evidence and luckily for us he was open enough to be honest and stay true to himself. I myself have the Guardians of The Galaxy rucksack and it works because he has put his creative stamp on it.
Inspiration can be stifled in this day and age with people living on social media however as David and I strolled around Shoreditch I noticed how much attention he paid to his surroundings. "Inspiration is like hunting for food because if only one thing inspires you you'll stay static, a true brand evolves its product".
A testament to his own mantra David travels to the places for authenticity, the ocean, the jungle and even architecture. I looked at Sprayground when it was a rucksack brand but now it is a brand that sells coats, neck warmers amongst other things but David has no intention of stopping there. Admitting he would've loved to see Leonardo Da Vinci wearing one of his bags, his reasoning "He was one of the few designers that designed multiple categories of things but they all told the same story. Weapons, statues, paintings but they all had a theme, he would sketch war machines one day, then he would make a statue but the curves of his statue would be the same curves he would use in the machine gun he was making." The freedom to be versatile in the past meant that artist could just create whatever they wanted. I could definitely see a Sprayground inspired car and luckily for us he isn't just thinking of wrapping a car he is wanting to make one! "Good salesman's can communicate different messages effectively".
With a positive attitude something I notice most creatives try to maintain David says he wasn't always this happy "Chasing a dream is dangerous because your gonna fall 7 times but you have to get up 8, if you can't do that then don't waste your time. It wasn't always like this, it was a struggle building something, you have to bleed. You have to almost die and be resurrected again in order to build something. In New York and England kids are wearing bags now but it wasn't like that a year ago". Basically, perseverance is key! I think it's safe to say that Sprayground has become a lifestyle "Kids are collecting the bags and they have 50 of them, they're selling them on eBay and I've even had 2 pop-ups where we have placed all 150 bags up to the ceiling".
When is the next pop up you ask? August 19th and I can safely say I am now saving my coins to head over to New York and see this art display. Before I let David leave I asked him to share his top 3 points he would share with any budding entrepreneurs:
1) Design first worry about the money later
2) Always smile the world will love you
3) Have good people around you because as you advance you'll have a lot of fake people around you but the ones that were around from the beginning keep them around.
www.instagram.com/Sprayground
www.twitter.com/Sprayground