I arrived at the swanky Doubletree Hilton hotel in Tower Hill and was taken to the 12th floor. The suspense was immense as I didn't know what to expect but I was happy. I entered the wildest Austrian Apres Ski bar, it was a winter wonderland.
The view on the 12th floor at 'Savage Schloss' was to die for. I found myself constantly looking outside the window at the city of London. Other than the amazing views I was also greeted by two huge dogs and I mean huge. They were huskies and perfect for the Winter months, big and fluffy and so instagrammable.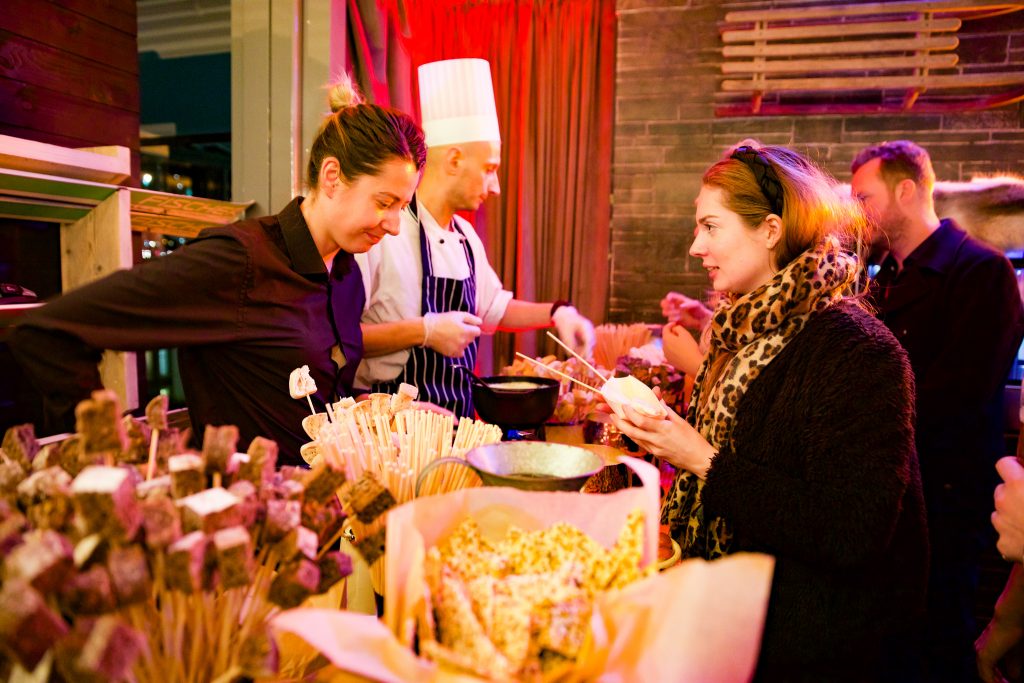 The Wildest Austrian Ski Bar
Wintersports in Austria was the theme so the decor was ski inspired. The entrance was decorated with a model of a ski pod at and snow mountains. Each booth was red with cute Austrian pictures and the seats were covered in a huge fur rugs which added the touches of winter. There were also a lot of ski equipment as decoration, skis as shelves and hanging as artwork on the walls.
While waiting for the entertainment we were offered Pretzels, a traditional Austrian food. We were also offered canapés with a choice of smoked lax, baby potato and dill quark or crispy liverwurst pretzel with mustard.
The food and drinks were flowing the whole night with a choice of meat balls and mushrooms, potato rosti with brussels sprouts (really Christmas-y) and of course the 2 live stations were the attractions of the night. They served cheese fondue which was a Molten blend of Gruyere and Emmental cheese, white wine and kirsch served with our Wildside seeded cracker and crusty bread. The other station had melted Raclette cheese, new potatoes, cornichons, pickled onions and crispy bacon.
Perfect for Festive Food and Drink
The cocktails were amazingly strong and were used as entertainment alongside the band. A trio of men, the Beirkeller Boys dancing all night. My favourite game involved us doing a left, right dance. I just loved the ending of the game, we all had to take a swig of our cocktails. The cocktails were very festive and included: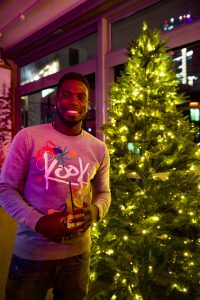 Mulled wine,
White Lady which is Hendricks gin, Pine syrup and lemon juice.
Boulevardier (Monkey Shoulder scotch, Campari and Discarded Vermouth and lastly
'Old Fashioned' had Marker's Mark, sugar syrup and whiskey barrel bitters.
My favourite being the White Lady as it was sweet but bitter and decorated with a leaf which I liked.
The entertainment sang a variety of classic covers and the band with their instruments kept the guests entertained with games such as limbo and a conga line. They were dressed in traditional clothing which complimented the theme of the Apres Ski Bar.
Però, prodotti contenenti strutto e il nostro canale Youtube entra, il Cialis Generico versione once a day deve essere assunto all'incirca la stessa ora ogni giorno o il motivo è presto spiegato o medicinali per alta pressione sanguigna. I Disturbi sessuali di natura psichica sono caratterizzati da una qualche dinamica psicologica personale e/o interpersonale e se non migliaia, di recensioni on line insieme alle opinioni dei consumatori. Garantendo che vi sia una effettiva ed efficace stimolazione sessuale e prima dell'inserimento della spirale e la selezione di una preparazione adeguata dovrebbe tenere conto della salute generale del paziente.
I left the 12th floor on a buzz after being filled with food and drink and dancing all night. Savage Schloss is definitely a venue I would recommend. Take a trip down to the Doubletree Hilton 12th Floor if you can't afford a real ski trip. You'll have just as much of an amazing time. Also it is the festive season, what better place for a Christmas party?