I often say that I love music but how much I cannot often emphasise, however, recently I had the pleasure of Rip The Runway UK, the fusion of music and fashion. I first found out about this event through my own Makeup Artist Geraldine who does my make up and was doing make up for the models on the night. I am glad she told me about it because I was in my own form of heaven, fashion and music and a crowd that had such a vibrant energy that it just made you want to get up and dance. Where was I? Rip The Runway UK a biennial event that is a fashion show with performances from musicians and artists alike, whilst the models strut there stuff alongside them. The audience was also filled with artists like Krept and Konan, SOS Producers (Mikey and Mo) and Kyle Letteman which shows that not only is UK music on the rise but they also support each other.
https://youtu.be/zZhDPbq4J_g
The night was hosted by the stunning Maya Jama who was in a monochrome black and white dress and Eddie Kadi who was wearing a lovely midnight blue suit. They kept me giggling throughout the evening and Eddie Kadi even did a runway walk that put some of the models to shame in my eyes. Imagine if Michael Jackson had walked a catwalk, that's what Eddie Kadi graced us with, his own tribute. The acts for the night included some artists like Rough Copy, Fuse ODG and Cherri V and they either performed alongside fashion brands or independently. There were many other acts on the night but those I mentioned were the ones who had me dancing and singing the most. However, someone who had the whole crowd leaning and bopping away was J Hus, who Eddie Kadi revealed was Gambian. The singalong to his music raised the roof and the energy from the crowd raised tenfold throughout his performance.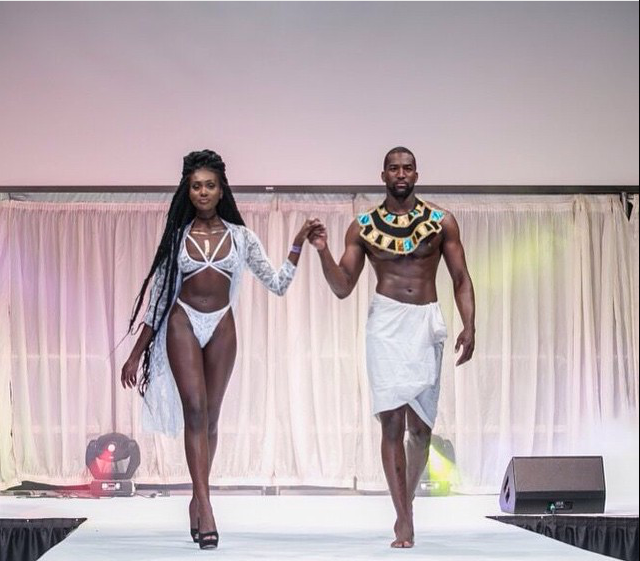 The artists were not the only ones who were giving us good music on the night as my two favourite performances actually came from the musicians. Daj Jordan, a Violinist from Hackney who literally had everyone up and dancing during his performance which was accompanied by models from a fashion brand. I always say I admire people who play instruments and this was by no means an exception, he played everything from R'n'B to Bashment and Hip Hop. Also we all know I love the natural look and he had an afro that made me jealous but one day I will get there. The other musicians on the night that we had were a band called 'The Composerz' and the drummer had the whole room vibrating with the heavy beats that he played. They gave us a fusion of Hip Hop and R'n'B and even played some UK beats which again had the crowd standing and dancing. It reminded me of the Matrix when they are in the underground caves and they're all dancing tribally to the music.
I hope you do not think I have forgotten any of the designers for the night as there were many talented brands. My favourite for the night belonged to the lingerie section, a brand called 'Lovely Lounge' at this point the boys on the table next to me were making me giggle. The amount of comments flying from there mouths' most of which I cannot repeat showed me they appreciated the underwear just as much as I did. It was either that or the ladies in the underwear but I would like to say it was the underwear that was getting their testosterone going.
I cannot finish this blog post without mentioning the charity that was being supported on the night, ACLT, the charity started by Daniel De Gale's parents. We all know how much family means to me (Empire) and I cannot to this day imagine what his mother went through losing her son. I hope there message hit home to people as they are constantly trying to get donors and I know I am looking into what I can do now to help. An emotional message which helped drive home the importance of support which is what the night was all about. Fuse ODG reiterated this point when he called the organiser on stage to say thank you for bringing this night together and helping to showcase Uk Talent.