'Reflections of Me' the debut book from Author, Kirsty Latoya, has been published through Own It, London. The book, a mixture of poetry and Artwork is the next step for this young woman who has already taken the art world by storm. With themes of Mental Health specifically depression, we headed to the Camden book launch (with a Q & A) to find out inspiration behind the book, her mother, Rose and her favourite drawings.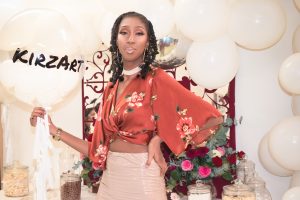 As I walk into the venue I am greeted by a bubbly atmosphere where everyone is eating Chicken, courtesy of Nando's. There are several stations set up around the room, a main table is covered with books with Kirz Art's signature digital artwork. The photo that went viral of Kirz Art, holding a mask that is smiling whilst behind she looks depressed. The books were for sale and there was no way you could leave without buying one especially when Kirsty was actually signing the books as well.
As an artist it was obvious there would be some drawing on the evening and we were not disappointed. An iPad station was set up with the drawing programme Kirsty uses to see whether the next Kirz Art was potentially in the building. There were also cupboards that contained drawing paper on the walls with colouring pens. I loved this room and a few people drew roses which was a homage to Kirsty's mum, Rose.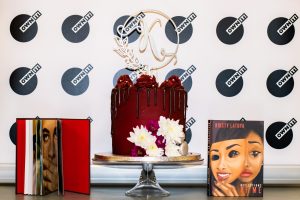 There was a beautiful Sweet Table in the corner courtesy of 'Knock me off my treat', which a lot of the guests seemed to hover around. That was until Pure Yinks, the host sat everyone down and the performances started for the evening. The first poet that really struck a heart string for us was Nego True who told a poem about his father and the effect him being absent has had on his life. Followed shortly by the comedian, Judi Love who never fails to make a crowd laugh all night. After a few jokes about Fraud Bae and weight she finished up. Lastly a singing performance was given by Cheryll, who sang a cover of a Neyo song and quite frankly made my heart melt with her melodic tones.
The evening would only be complete, however, once we had all heard from the author herself. So, we sat in our seats as a mini interview was conducted by Pure Yinks on Kirz Art. She spoke about losing her mother to Marfan's Syndrome and the terrible days leading up to her death. She also gave us the insight into her favourite poetry and why? Lastly, we all asked the questions we were dying to know? How does she find inspiration now and when is the next book coming? Luckily, we have some mini highlights from the event. But if you want the full experience then you definitely need to go and by this book now!
You can purchase 'Reflection of Me' by Kirsty Latoya now on Own It London: