Pressa is a Canadian rapper who first got his recognition from his song "Canada Goose" featuring Tory Lanez. His new album 'Prestige' is one to listen to.
"Prestige" is his first album named after his dad who is currently incarcerated and has been since he was little.
"He's heard the project he loves it. My dad's favourite song is 375, that's mine too."
The album was released on April 16th and went to number 1 in the Canada Hip Hop iTunes Chart in less than 24 hours.
Pressa explains that he was sitting on this album for a while and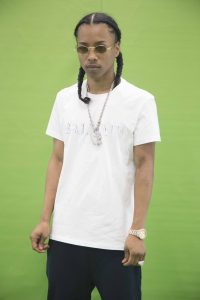 goes into the studio almost everyday and makes almost 10 tracks each day. So you can imagine his need to release this project as soon as possible.
The album has a total of 16 tracks and has features from Burna Bandz and Atlanta rapper Lil Richie who features on 'Beam Jawn'.
The rapper started making music after his friend passed away and he wanted to keep his name alive and dropped his now anthem 'Canada Goose'.
'Fox Fur' is the firsts single and plays of his first song of 'Canada Goose' explaining that there is now an upgrade in all aspects of his life.
Pressa filmed the music video for 'Fox Fur' here in London, a place he loves to visit, whether it's for the likes of his friend Giggs or making new music with the likes of Deno and D Block Europe, or the girls.
"London girls and Toronto girls are similar in culture." was his response when asked if he has a London girl he likes to visit.
Prestige is available on all streaming platforms.