We arrive at the Big Church Day Out which is described as "a Christian non-profit music festival that takes place in Wiston, West Sussex, England, best known for its contemporary Christian music. Many musical types are represented at the festival with the festival to appeal to all denominations of Christians." in the early afternoon on Saturday.
As we drove up the field and looked at what seemed to be a castle, with all the tents which lined the walkway on either side. We had unintentionally entered the festival from the west entrance, which was quite far from the main stage. We only realized this when we asked for directions to the accreditation office, and the lovely caddy driver Andy offered to drop us to the media office (Please note this turned out to be a 10-15-minute drive) we were truly grateful for the lift, even though the exercise would have done us good.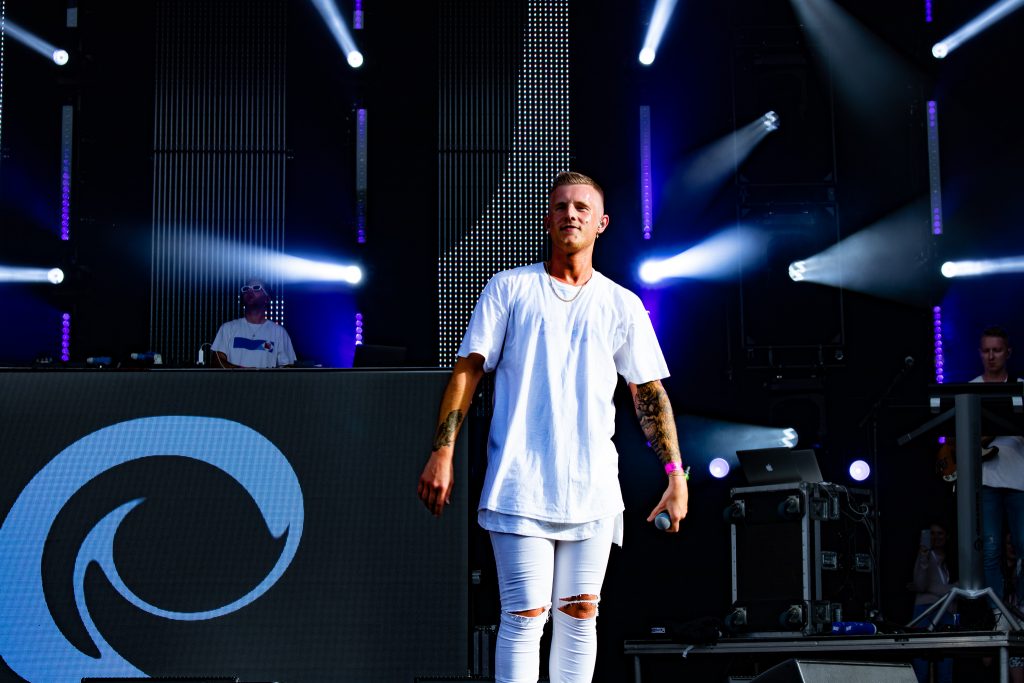 So, we have our Press passes and make our way to the main stage. The view is amazing, loads of color, people, happiness, food stalls, tents, camp sites. As we arrive near the photo pit Kings Village are performing and the atmosphere in the festival is something so difficult to explain but felt amazing. I also enjoyed performances from L27, Elevation Worship, Social Beings, J Vessel etc. My favorite act for Saturday would have to be Sinach! Once she entered the stage, she the atmosphere changed again, and I felt like I was in Praise and worship at church. She performed all her hit songs and filled the festival with such an anointing, which made me know God was present and that I'd be visiting BCDO again and recommending the festival to all my family and friends. Way maker sang beautifully by the artist made my whole weekend. Faith child and A Star music had the crowd jumping on another level at the illuminate stage.
As we ventured down to the food village to catch a bite to eat and see the Illuminate Stage. I was literally spoilt for choice. There were what seemed like hundreds of food stalls from every country you could think of from Vegan wraps from Lebanon to Jollof rice and Jerk chicken. BDCO out done themselves in the food department.  There were food demonstrations taking place, so you could see how the food was prepared. Even in the food department the vibe from the people and staff was so kind and warm. Everyone was happy, peaceful and sober. Sober is not something you experience often at a festival, yet it was bliss.
Whilst visiting BCDO I noticed that quite a lot of charities support the festival such as Christian Aid, Tear and MAF UK. There were probably more that I didn't manage to stop at or see. That's the thing with BCDO there's always more to see, as their various sections etc. MAF UK stood out to me because I was so ignorant to the fact that there were charities doing this type of outreach.  For over 70 years they have been flying aircrafts over jungles, mountains, swamps and deserts. Their charity enables over 2000 aid, development and mission organizations to bring medical care, emergency relief, long-term development and Christian hope to thousands of communities. They also broke the world record and made a massive rocky road at BCDO, so they would stick in my sweet tooth mind.
I felt really blessed by a dance group Watoto UK who danced so wonderfully, I really enjoyed their performance and love the fact these children were given the chance to come over from Uganda to bless over 3000 people. They were very well polished, cute and wore matching kente outfits. They were the cutest!
Inside the kingdom come tent is an atmosphere like no other. A space where everyone is tuning in with God by worshipping and some just basking in Gods presence.  So many different people seeking different things but they all reach out in their way within the kingdom come tent.
At BCDO you feel free and open in my opinion. It's a place where you feel God's presence in a strong way and meet the most amazing people and friendships commence which can probably last a lifetime.  I would definitely visit BCDO again and I would give it a 9/10 for festivals to do.