Whilst we are waiting for the sun to come out. I was lucky enough to attend the Silhouette Eyewear Summer launch yesterday morning. The brand was founded in Austria, by husband and wife Arnold and Ann Eliese Schmeid over 40 years ago. The new Silhouette Eyewear has a limited edition collection and a range inspired by Butterflies. We were more than ready to see the Sunglasses in person. So, as we walked into Icetank, on Grape Street we were happy for breakfast. Not to mention seeing what the trendy eyewear brand was bringing us for Summer.
Flower Butterfly Walls for the perfect Selfies
I arrived at Icetank and their clean white space was the perfect spot for the breakfast and for selfies. As I walked up I could see an amazing Flower wall which had a Butterfly theme to it and I knew where I was going to take my selfies. There were butterfly decals on the walls and you could tell straight away that they were important. As I spoke to Nora from the brand she explained that the Sunglasses were inspired by Butterflies. Upon further research it was based upon the Blue Morpho Didius Butterfly which has iridescent and metallic wings. You could see that the sunglasses were just as beautiful with amazing colours and shapes.
After a small break to eat some breakfast which were mini bagels and some granola, I was back to trying on the Sunglasses. With different collections which include, Infinity, Accent Shades, Active Adventurer and Sun C there is a variety of styles to choose from. You would definitely find a pair to suit you with so many different shoes to choose from. One of the collections I am drawn to is the limited edition Titan minimal Art sunglasses. With a variety of lenses, I felt like I was Niobe from the matrix, minus the leathers with the sunglasses on.
Screw-Less and UV Protection
A key feature which has just made me head to my opticians is the screw-less feature. Yes, you heard me right Silhouette eyewear has no screws. The lightweight frames contain no screws, which means there's no need to go and get your screws tightened. I for one have a pair of glasses currently that I need to go and have the screw tightened on, but where do you find time? The thought of not even having this issue is highly appealing.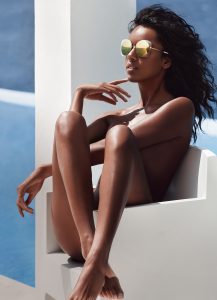 The other advantage to Silhouette eyewear is the protection it offers. Often when people by cheap sunglasses they do not realise the damage they can cause as they often have no UV protection. Silhouette sunglasses not only protect against hazardous UV Radiation but they also protect against blue light. This means if you're like me and constantly on your social media you're protected whilst looking at smartphones and other touch screens. It also has antiglare protection making them perfect for all weather conditions, even snow.
Eyewear with Eye Protection
After a short interview with Al and Nora, 2 of the brand representatives I took some epic selfies. If I am honest it was more like a mini photoshoot with the great space at Icetank. I also mingled with some other attendees who consisted of press and bloggers. I finished off my last mini bagel before I grabbed my goodie bag and left Icetank.
With festival season approaching and our books already being booked up for coverage. I intend on investing in a pair of these shades to add to my festival wardrobe. With all the protection they have and the lightweight frames. I won't have to worry about losing a screw or my eyes being damaged by harmful UV Rays. I would definitely find out where your nearest retailer is and invest in some Sunglasses that are fashionable and protective.