Rimmel are a staple brand in every woman's make up bag. When they announced their Jelly Collection it was only right that we attend. Hosted by the Tropicana club in Holborn (somewhere we've wanted to go for a while), we walked in to a Tropical Paradise. Are you #ReadyForThisJelly .
The Jelly Collection from Rimmel is made from a water-based bouncy formula. It helps to create the perfect dewy looks and was all inspired by K Beauty. The products are cooling and help to achieve that natural glow. With the option to layer on top of each other or use individually, these products are perfect for festival season or parties. The collection consists of: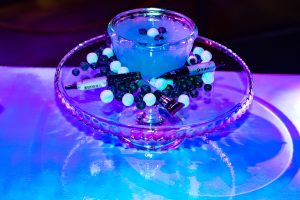 Four Jelly Blushes (Melon Madness, Peach Punch, Bubble Gum Chum and Berry Bounce)
Three Jelly Highlighters (Poppin' Bottles, Candy Queen and Shifty Simmer) and
Five Jelly Glitter Gels (Frosé, Blue Lagoon, Long Island, Mojito and Purple Rain)
Festival Glitters to help you stand out
If you needed a display of the collection then upon arrival there were photos along the walls of models that were glammed up with the new Jelly Collection. We walked through the doors and were greeted with two women holding cocktail trays. The cocktails of the evening were named after the new collection and consisted of:
Berry Bounce Mojito (Brugal Rum, Lime, Fresh Mint and Summer Berries topped with Lemonade)
Bubble-gum Chum (Eristoff Vodka, Bubble-gum Syrup, Egg White and Maraschino Cherry)
Shifty Simmer (Bombay Sapphire Gin, Elderflower, Lime, Fresh Strawberries topped with Soda)
We grabbed a cocktail and headed around the room to see who was there and also to find out about the new collection. The two makeup tables were occupied by make-up artists. We headed to the one with Global Makeup Ambassador for Rimmel, James Molloy. He showed us the new collection and sat me in his chair for a quick demonstration. He used one of the new Jelly Blushes and one of the Glitter Eye Gels. James gave me some top tips on how to use the make-up and we were off but not before a mini interview.
Makeup and Bum Bags for Party Season
The table next to the makeup stand was run by Skinnydip where you were gifted a personalised Bum bag. With the option of glitter initials or metal I went for Metal. The bag is perfect for festival season along with the Jelly collection, especially the Glitter Gels.
Their amazing snacks consisted of Vegetarian and Beef Burger Sliders, Chips, Vegan Tacos and Jerk Chicken. We ate these whilst we waited for our chance to get into the massive ball pit in the middle of the room. Everyone was in there trying to get the perfect selfie or just having a laugh. We tried to enter gracefully but walking on balls is not the easiest. Needless to say, we grabbed one of the Jelly balls and got perfect pictures.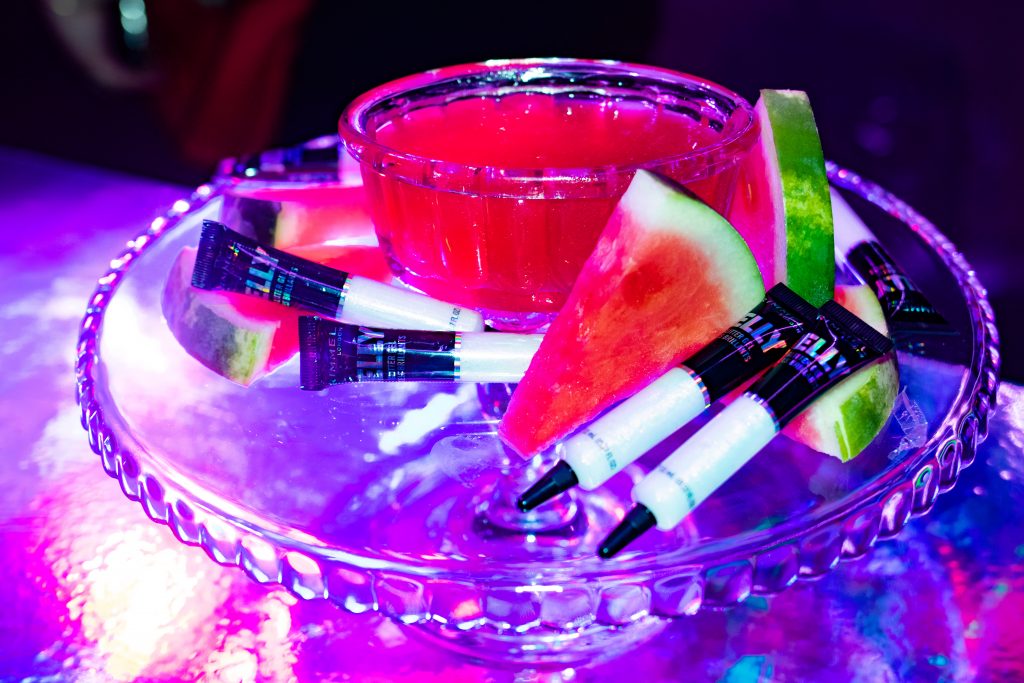 Adult Ball Pit? Yes Please…
Having a selfie in the ball pit was not enough as there was a photo wall where Rimmel had fun props and their own photographer. We grabbed some fun attire and posed for our official photo, which we collected straight after and was a great souvenir of the night. After a short thank you from Rimmel everyone went back to mingling and dancing but the night would soon be over.
We headed out of the event but not before having some last Jelly shots which were based on the Glitter Gel of 'Long Island'. As Jelly shots go I must say it was very tasty. We walked downstairs where we were given goodie bags with the Jelly Collection inside. They also included a fun bag of Jelly Beans. Needless to say, we will be spending most of today doing fun makeup looks and maybe eating our Jelly Beans. If you want the new collection it is available today in Superdrug and is affordable too. Let us know what you think of the new collection and if you are #ReadyForThisJelly ?