Glam! Suite London is a new beauty bar in London.
The beauty bar opened four weeks ago and is already creating a buzz in the beauty world. Glam! is receiving a lot of positive feedback from their treatments which include lip fillers, facials, teeth whitening and dermal fillers.
The lovely pink decor made the beauty bar seem like a relaxing place perfect to let your hair down and be pampered.
I was greeted by a lovely team of girls and my skin therapist, Hannah, and taken downstairs to a cute room following the pink decor.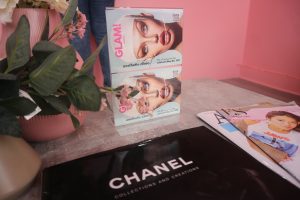 Self care is key to happiness. This is something I've grown to learn over the years, so I was filled with excitement.
"We're not taught how to look after ourselves" Hannah said while she got started on my double cleanse.
THE EXPRESS FACIAL
Hannah started with a double cleanse where the first cleanse to remove the superficial dirt and bacteria and the second gets rid of the rest. After this she used Toner to remove the residue and serum called Mela White Active C which lightens dark spots. Pigmentation is something I've battled with from a young age and is also common amongst black skin.
I then received a light Diamond Microdermabrasion at the first grade as it was my first time having one done. The Microdermabrasion comes in different tip grades and depends on how many treatments you have had and also how your skin reacts. The suction increases the blood circulation, while the diamond tip pulls the skin and exfoliates the top layer allowing the body to create a new layer of skin. Amazing right?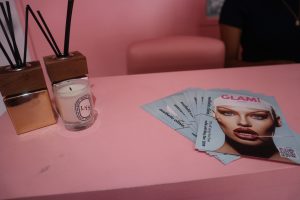 This was followed by an Illuminating Orange Mask with lemon extracts and oats which flushes out lymphatic system. Your lymphatic system is tissue and organs made up of lymph vessels below your skin and ensures your body is able to cleanse, detoxify and maintain fluid levels.
To finish of my express facial Hyaluronic serum and protection cream was rubbed into my skin leaving my face feeling refreshed.
I left Glam! Suite glowing and with a head full of information I never knew about my skin. One thing which stuck with me was that skin care is very important and sometimes it's not just water and minding your business which helps.